Rommel Donald AKA ROMderful is a crazy talented British musician, producer, DJ and multi-instrumentalist. After building his fanbase on Soundcloud, he went on to sign a record deal with Sony's partner Same Plate Entertainment. From his musical beginnings in a heavy metal band, performing on the stages in Seoul and collaborating with the likes of Jean Deaux, Kehlani and KayFaraway - the colourful creative is set for a wild ride with musical talents being recognised globally. 
With everyone stuck in lockdown, we caught up with ROMderful. Discussing his love of music, fashion and all things colourful.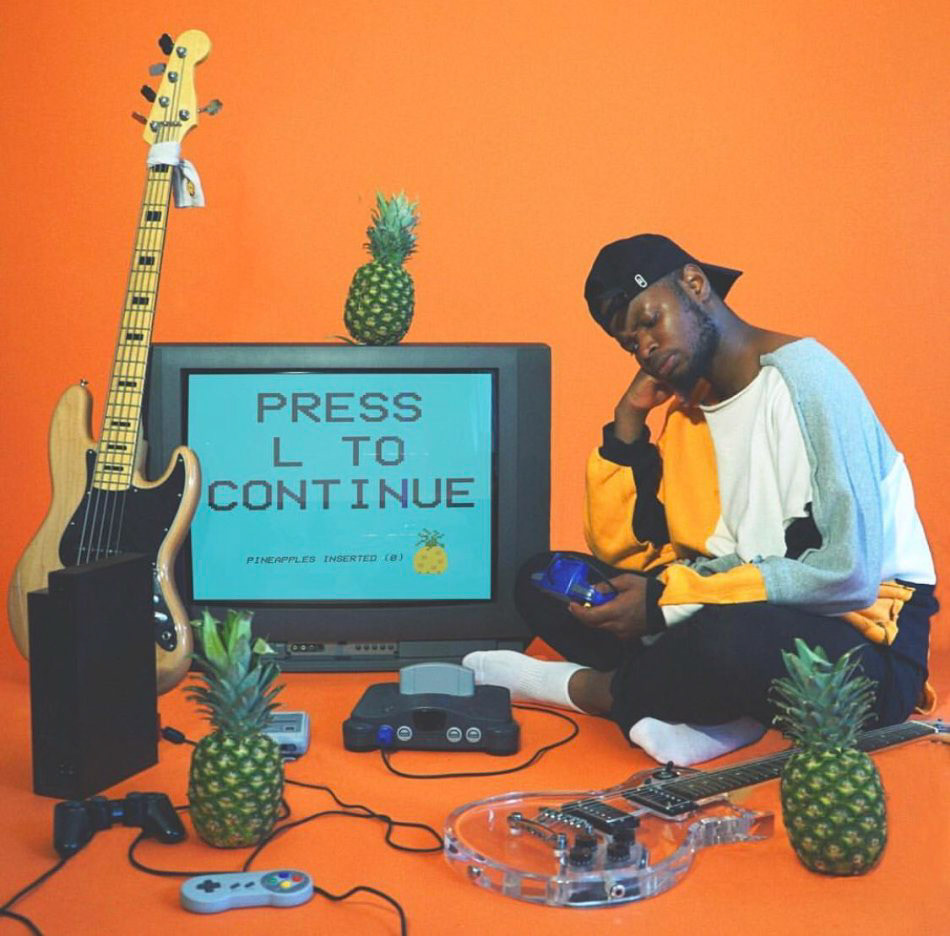 The multi talented musician, ROMderful, is making waves in the music industry. From his early years singing in church, to his rebel phase in a death metal rock band; ROMderful has always been a lover of music. Today, his music fuels a captivating mix of heavy bass, wavy chords and an uptempo sensibility resulting in feel good music you can chill, dance and vibe to.

"It's weird but I feel like I've always been in love with it. I've always felt it."

A question we want to know is how did Rommel Donald decide on the stage name ROMderful, what does it mean and how did it come about. A funny anecdote, we were delighted to hear it was actually a creative accident. 

"I was having a conversation with a friend about changing my artist name from ROM because it was boring and hard to search and I meant to say to him "I want something that sounds colourful and wonderful" but I kinda stuttered and said ROMderful on accident! And we were both like...THATS TIGHT!"

With a fresh R&B sound, it is no surprise ROMderful drew inspiration from the likes of Pharell, N.E.R.D and Tyler the Creator. Each with distinctive beats and a recognisable sound, their genre mashups broke boundaries in the music industry. ROMderful's early years remixing and editing tracks, his music developed with a more distinctive sound, evolving from his collective of influences and multi-instrumentalist skills curating an exciting and refreshing, new sound.

"There's no way you can't recognise a Neptunes or Pharrell beat within the first 5 seconds of anything they produced.  I love how distinct and recognisable their sound is and how far their range in terms of genres go!"

In addition to his musical talents, ROMderful is also known for his quirky and eclectic style. Adorned in bold prints and bright colours, he credits his fun and expressive fashion sense to his love of bright and vibrant Nintendo games. Following in the footsteps of American rapper turned designer, Tyler the Creator, ROMderful's style is both colourful, expressive and maximalist. An embodiment of fun and happiness, we are not shocked his favourite colour is also orange! Neon orange or pumpkin orange to be exact.

"I'd describe myself as a loud rainbow or 'Confusion in sync'!"

Throughout his career, ROMderful has built a strong resumé working with many credible artists, Jean Deaux, Kehlani, Jay Prince, Shakka and TOBi to name a few. As a master of beats and skilled producer, he has been the man behind the scenes for many hit songs! Out of all of the artists he has collaborated with, ROMderful tells us of his favourite sessions to date.

"It was with TOBi when we made 'Tired of the Games' from my last album 'Press L to Continue'. We were both working on music in LA at the time in the same studio and I remember he came into my studio room and we were just talking and vibing and then he wanted to hear some beats. I played about 13 beats before I landed on what was the earlier version of the beat for the track and everyone in the room was like "OOOHH this is the one"."
"TOBi jumps in the booth and says just let the beat go for as long as possible and he literally just freestyles off top for like 15-20 minutes and we're all in the room like YOOOOOOO. Honestly he killed it and then we just refined it over the course of a week and that's how that song came to be!"

ROMderul is also often seen collaborating with fellow Dudley musician, KayFaraway. His soulful/R&B/rap mashup blends perfectly with ROMderful's beats. Friends since childhood, ROMderful describes him as a brother. As friends prior to music collaborators, their recent tracks '10th Wonder' & 'Crazy Ride' have been applauded with tens of thousands of streams on Spotify, highlighting how their musical partnership has evolved. With ROMderful and KayFaraway just wrapping his first full length project, we are all eager to hear the much anticipated drop.

"We didn't always make music together but I persuaded him to jump on the mic several times during our friendship but he finally did it and jumped on my 2017 single 'SummerTimeTing' which features Emmavie and Mayzin and that was the first verse he ever recorded. The rest is history."

A masterfully-mixed producer, we were keen to hear how ROMderful balances his time creating music for himself as well as other artists. Often the man behind many crazy beats, it must have been challenging and slightly daunting to prioritise and release his own tracks. In a bid to create a buzz around his own latest music, ROMderful is often seen posting fun and creative videos on social media. Cloning 10 lil ROM's, his videos have been a hit on Instagram offering a more interesting and entertaining release over a random drop on Spotify.

"'THE SUN SHINES SO BRIGHT WITH YOU' has done so well reaching like 6/7 playlists in like a week and so much love came from it especially after the videos that I posted on social media!"

Following the release of his debut album, 'Press L to Continue', we have to mention this has become one of my favourite albums! The captivating mix of beats and sounds ensure it is definitely an album to vibe to. The album really showcased the full extent of his talents, from singing, songwriting, rapping and producing; the debut album highlighted his growth as an artist. From his background in remixing and editing, the album really embodied his sound and persona. Not to mention the cover featuring all of his favourite things; retro video games, pineapples and instruments all with a lovely shade of orange! But packed full of crazy authentic verses, we were keen to hear if ROMderful had a favourite track on the album and why.

"My favourite track on the album personally is 'Catch Me?' featuring Jay Prince. I just wanted to embody my hero Pharrell and make some bright, happy love vibes."

Summed up in 3 words, ROMderful described the album as; Bright, Colourful and Expressive.
The crazy talented artist has already achieved a lot in his career. From travelling to amazing countries, performing and collaborating with other credible artists; we felt it important to hear ROMderful's advice for other budding musicians. Reflecting on his early days back in Dudley, to his flourishing international music career, it was encouraging to hear his growth. Taking it at your own pace and really enjoying what you are doing'; were wise words from a firsthand creative.

"Dream suuuuuper duper huge. Anything you want to happen will happen with the right work but just focus on your day to day and find new things to learn every week but the most important thing, DON'T LOSE THE LOVE. Have fun."

We obviously couldn't let him go without discussing what he is currently working on. Following the success of his latest hit 'WHEN THE SUN SHINES SO BRIGHT', we are eager to hear new music. The all-round creative is also keen to develop his visuals further and tap into the cartoon industry. Producing a soundtrack for a video game or cartoon is definitely something we would love to listen to!

"Well…. I… uh… maybe I'm working on another album? ;) 
But for the time being, a bunch of singles and producing for others!"

To brighten up your lockdown mood, check out 'Press L to Continue' now!