Celebrating designers from an array of backgrounds and cultures, an insight into Kingston's most diverse catwalk yet.
The luxurious St Pancras Renaissance Hotel was the perfect host for the Kingston School of Art MA catwalk show, uniting Victorian aesthetic with contemporary style. On Thursday the 11th October, the grand hotel transformed into a fashion frenzy with the MA class of 2018 debuting their new collections. With Kingston School of Art being regarded as one of the top art and design schools with the world focusing on research performance, industry and student awards; the annual MA catwalk show did not disappoint, with the most senior fashion class displaying a high standard of craftsmanship, creativity and design.
A selection of 12 graduate fashion designers, from an array of international backgrounds including Britain, Slovakia, Taiwan, China, South Korea and more, showcased their skills and talent with their MA collections. The highly anticipated catwalk show highlighted diversity and inclusion; with a variety designers displaying international backgrounds, reflected in the diverse selection of models.
#Structure
The MA graduate designers also paid attention to structure and the creation of different silhouettes through fabrications, layering and exterior materials. Three designers in particular; Haeun Jun, Lucy Baxter and Shuxin Cuan formed the foundation of their designs around structure and shape.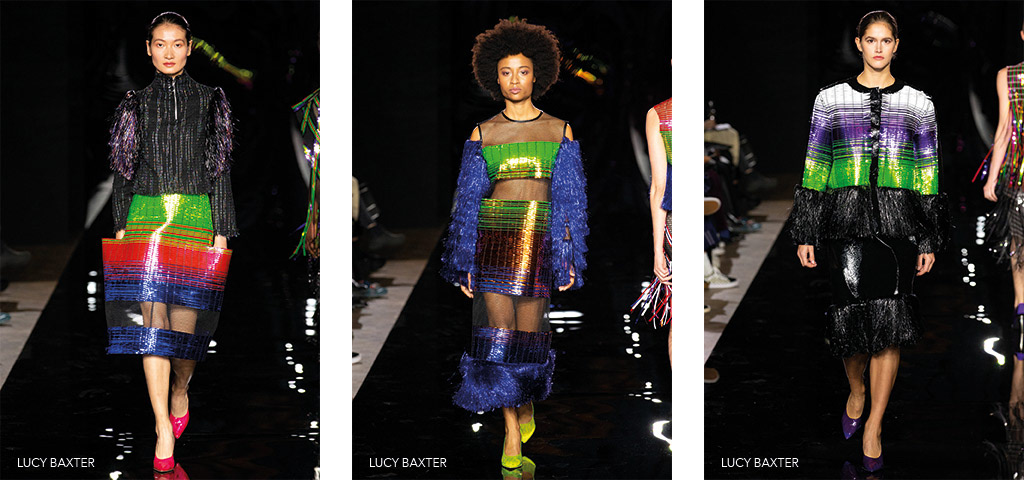 Lucy Baxter debuted a colourful futuristic collection, creating her own fabrics and textiles to create playful silhouettes featuring mesh cut outs, thick fringing detailing and boxy shapes. Her collection uses weaving techniques to play around with the blending of colours as well as creating structured garments. Lucy's eye catching neon colours were bang on trend, with metallic threads woven into each garment, shimmering in the lights.

Contrasting, Lucy's collection was Haeun Jun who presented an array of white monochromatic looks. Focusing on shape and silhouette over colour, Haeun's designs featured a subtle yet intricate print using semi-opaque fabrics. Their designs displayed avant-garde aesthetics with huge shapes and silhouettes created through wiring and structured materials. Despite the all-white colour pallet, the designs were minimalistic yet strong and bold. Nipped in waists and exaggerated shoulders created the illusion of overtly feminine silhouettes with a slight artistic and couture aesthetic.

Shuxin Cuan also showcased an artistic array of garments using layering and fabrics to create interesting shapes and silhouettes. With the foundation of the look consisting of semi-sheer tights and sleeves, with fabric cut outs layered on top creating the illusion of wider hips, nipped in waists and exaggerated shoulders. With silhouette considered one of the most important aspects of fashion garments, Shuxin's designs presented a playful alternative to creating shapes and silhouettes using muted colours contrasted by bright pops of blue and yellows to ensure each strip of fabric stood out. The collection emphasised feminine physiques; using creativity and a unique signature style to blend art with a slight fashion flair.
In addition to the more ready-to-wear collections, several MA Kingston graduates showcased high-fashion couture garments. From inspiration taken from deep in the ocean and coral reefs, to strong monochromatic looks adorned with intricate headpieces. The couture collections focused on shapes and detailing, featuring signature patterns by each designer.
Junsen Zhao's collection was inspired by the beauty of the coral reefs and the colours, patterns and shapes created by coral reefs and marine life but touching on the subject of environmental pollution of the oceans, reflected in the choice of colours yellow and black. The knitted gown remained the stand out pieces from his collection, with the contrast between the yellow linear strips and dark spotty knit print highlighting his sheer talent as a designer. Not only did his designs bear striking resemblance to his unique marine life inspiration, the execution of his designs were excellent. The shape and silhouette of Junsen's designs exudes elegance and couture fashion, with the exaggerated shoulder pads, streamlined silhouette and bold prints. His collection also remained consistent with his signature style and prints remaining somewhat throughout.
Samuela Takacova's collection also displayed strong couture qualities, with her monochromatic looks reinforcing high fashion. With a focus on colour and detail, Samuela's pieces remained memorable. Her collection consisted of bright blues and red contrasted by muted blacks and grey, with structured and tailored blazers and dresses highlighting her craftsmanship as the garments moulded perfectly to the models body. The eye catching zigzag detailing became Samuela's signature; incorporated into every look creating a coherent yet different collection. Another couture aspect to her collection were the headpieces, reminiscent of religious halos adorning the head of each model. The intricate shapes of the headpieces coincided with Samuela's signature zigzag pattern, whilst adding a slight avant-garde aesthetic to her collection.
This year saw a strong collective of menswear designers presenting contemporary, sporty with a focus on oversized garments rather than tailored menswear with innovative cut and detailing displaying the designer's fresh ideas and talent. As a collective, the menswear designers colour pallets centred around navy, sophisticated and staple in menswear wardrobe.
In contrast to the sportier menswear collections, Ce Zhang created a Western aesthetic through brown and blue hues, trimmings and detailing, paired with creative styling focusing on brown leather neck scarfs and chunky brown ankle boots.

Graduate designer Sophie Bailey, focused her menswear collection on the importance of sustainable fashion with customisation through zips and clips, and her garments emblazoned with graphics such as 'Throwaway Society' and 'This Is All a Waste', highlighting the importance of change within the fashion industry. After confessing to owning a vast collection of fabric scraps and samples, Sophie noticed a need for change and created one look from her collection entirely from bin bags alongside hand cut vinyl signs and a jumper featuring 2,500 individually interwoven cable ties, "I want my clothes to be special, something people keep for a long time. I hope people wear them in different ways, it's much more sustainable. It all comes back to the initial inspiration of hoarding and the contrasts between hoarding and throwing things away."
Adrian Huang incorporated linear patterns and detailing to create a modern aesthetic and sports-luxe feel.

Another prevalent theme during the Kingston MA catwalk was a focus on fabrications and details. Two designers in particular, Jia Li and Deep Rehal focused on frill detailing and high shine fabrics to create eye catching runway looks. Despite a similar detail to design, the two designers created contrasting collections with one focusing on more couture aesthetics whilst the other created a more sports luxe collection.
Jia Li incorporated bold cobalt blues and bright colours paired with dramatic frill detailing to add a slight couture aspect to his tracksuits. Their debut collection also featured more casual wearable pieces, with matching bomber jackets and skirts/shorts, mini dresses and tracksuits. With the high shine fabric shimmering under the runway lights, the collection allowed their talent to shine. The collection was accessorised with 'bum bags'; which are often considered one of 2018 hottest trends after debuting on many designer catwalks and becoming a staple in streetstyle fashion. Jia Li used the iconic bags to emphasise the modern sporty element to her collection, typically worn around the waist, millennials are now wearing these 'bum bags' cross body, modernising and reinventing them as an athleisure must have.
In contrast to the sports luxe tracksuits, Deep Rehal's intricate fabric and frills and ruffle detailing ensured her collections exuded couture and high-fashion. The garments themselves consisted of a pretty neutral colour palette featuring silver, lilac gold and pink however, the frill detailing added a pop of colour with bold blues, greens, pinks and orange. Deep Rehal used styling to create a more modern version of the typical couture aesthetic, with shimmering socks worn dark ankle boots giving the collection a modern edge.

This season also saw several designers showcasing oversized and un-tailored garments focusing on detail and styling rather than more feminine silhouettes. Both Yihuan Ran and Chieh-An Su formed a similar colour scheme with bright yellows, oranges and high shine fabrics, debuting oversized outfits using roaching, belts and straps to create silhouettes and shapes without the need for tailoring.
Whilst Chieh-An Su presented a collection with a more gender neutral fit featuring shirts, jackets and trousers. The collection portrayed functional, workwear with a fashion flair. Accessorised with bags on belts and bags incorporated into the actual garments themselves, on coats, skirts and jackets reinforcing the ideal of functionality. The colourful collection was paired with brown lace up boots, again reinforcing the concept of functional fashion.

Despite a similar stance on colour, Yihuan's collection featured more dramatic garments, in terms of fit. Their design's reflected the lights of the cameras and runways, with the shimmering high shine fabrics adding a more feminine and high fashion element to the collection. Again, oversized and untailored Yihuan's pieces consisted of billowing fabric in long skirts, dresses and trousers. In earthy tones of dark greens and khaki, contrasted by mustard hues, neon yellows and reflective silver.

The Kingston School of Art MA show definitely displayed some skilful designers with strong signature style and aesthetics. A colourful display of wearable menswear, womenswear and high-fashion incorporating current trends and colour palettes into their debut collections. Showcasing at the luxurious St Pancras Renaissance hotel added a slight grand feel to the catwalk, with the front row packed of industry experts they were able to introduce their creativity and skill set to the valuable contacts. The graduate designers proved they will make their mark within the fashion industry, and it will be interesting to see what the future of fashion holds for each designer.