Bold and Beautiful. The technicolour trend at London Fashion Week AW19.

London Fashion Week AW19 saw a shock turn of events. The final day of LFW saw many paying homage to the late King of fashion and influential icon, Karl Lagerfeld, following his sad passing on Tuesday 19th February. As the industry mourns the loss of one of the greatest figures in fashion history, it has paved the way for many young and emerging designers to step out.
With London renowned for its emerging talent, it is the perfect Fashion Capital for emerging designers and graduates to debut their collections in London's subversive and slightly rebellious setting. This season saw a stand out trend of bold prints and vivid colours. From Richard Quinn, to i-am-chen, technicolour wardrobes are the must have for AW19.
As a platform dedicated to promoting and showcasing emerging talent, it was an honour to attend a number of the most highly anticipated shows. Fashion Crossover, reflects on the most striking catwalks and presentations from AW19, exposing the sheer talent possessed by many up-and-coming designers.


As social media was flooded with photos and memories of the late Karl Lagerfeld, Richard Quinn soothed the hearts with a breath-taking show. The inaugural Queen Elizabeth II Award for British Design winner, Richard Quinn, presented a staggering 41 looks for his AW19 collection. The Central Saint Martin's alumni, only launched his eponymous label in 2016, but has gained industry recognition through his Valentino-esque silhouettes and haute couture flair.
In regards to his previous shows, AW19 had an air of confidence, a more grown up approach to high fashion. Richard Quinn, a relatively young and emerging designer, boasts confidence exuded by experienced designers. His savvy colour combination and use of bold floral prints, has ensured he is well respected within the industry.
His AW19 collection saw his signature designs heightened with dramatic creations; balloon skirts, puffed Juliet sleeves, covered faces and headscarves, paired with black latex accessories. Richard has the ability to create striking yet elegant haute couture worthy garments, whilst ensuring they remain modern and relative to a young consumer market.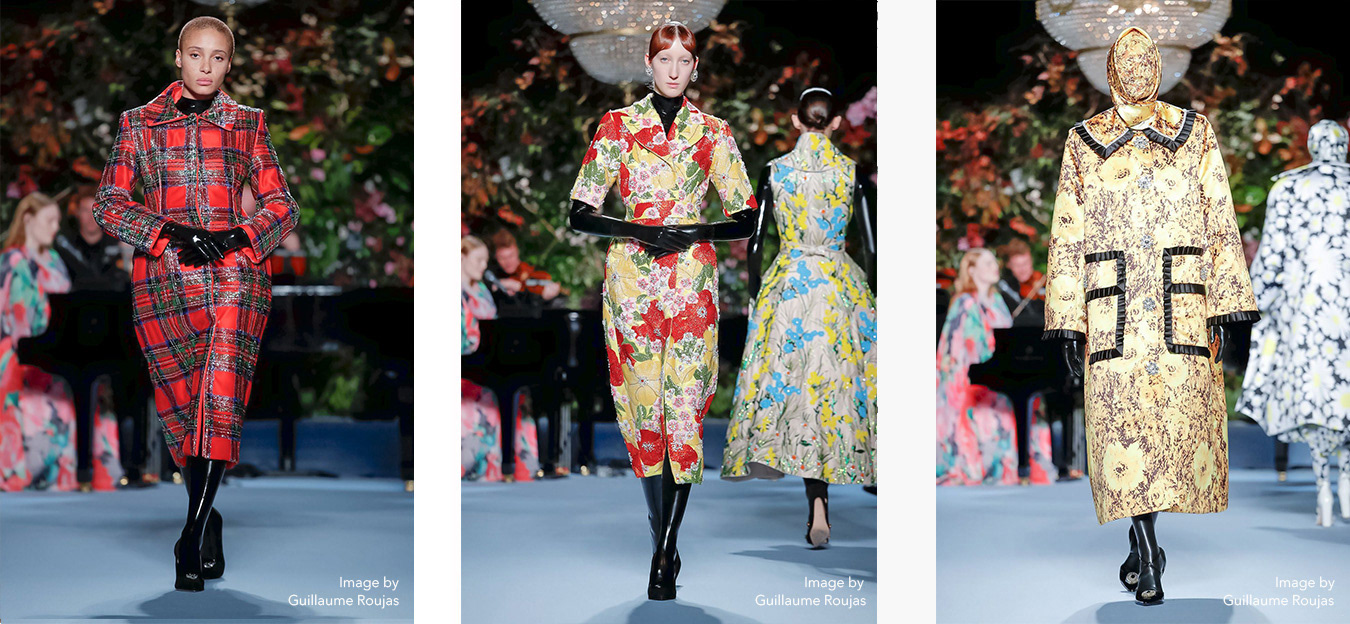 The highly anticipated catwalk of the AW19 Merit Award Winner, Tolu Coker, did not disappoint. She showcased her eponymous unisex brand, Tolu Coker, which celebrated inclusivity, diversity and social responsibility. Her AW19 collection explored the hybridity in societies and cultures, combining her dual heritage of British and Nigerian.
Tolu epitomised fun and youthful expression, with models dancing down the runway to create a light-hearted and playful atmosphere. This air of youthfulness was portrayed in her contemporary designs, using bold and illustrative prints, striking silhouettes and a playground of textures.
With the brand ethos focusing on identity, her AW19 collection aimed to reconstruct black identity within the western world, adding personal prints, embellishments and sentimental old polaroid's of her family. Tolu's garments are a fusion of generational experiences, using extracts from her father's diary. Her collection utilises both traditional artisan craftsmanship and modern technology, ensuring conscious consideration is given to sustainability.
Another designer embracing bold colours and prints was i–am-chen. Finalist for the International Woolmark Prize, i-am-chen continued to bring her fun and light-hearted spirit to her AW19 catwalk. I-am-chen collaborated with world-class technicians to reinterpret and redefine the art of knitting. Chen experimented with a diversity of yarns to create her signature bold and eye-catching garments.
For her AW19 collection, 'Unclassifiable', Chen focused on geometric shapes and patterns, following in-depth research into the work of American abstract painter, Agnes Martin. Chen developed an inventive painting approach to bring classic shapes to life, creating wearable garments with an artistic and fun flair. Models strut down the runway in technicolored knitwear, turning the heads of many front row professionals.
Similarly to artist Agnes Martin, Chen is considered to be an abstract expressionist through her use of vivid colours, whilst fashioning a minimalistic approach to the actual making of her garments.
Chinese designer, Ying Shen, the founder and creative director at UNDERAGE is also a CSM alumni. After studying textile printing and graphic design, the heart of her brand vows true to her roots and graphic background, using fashion to explore youth culture.
UNDERAGE's AW19 collection took inspiration from the cult film, the Rocky Horror Picture Show, focusing on its impact on the sexual revolution movement in 1970s Britain. The models stood-out in front of the red and pink backdrop, dressed in androgynous, gender-fluid garments in dark shades of khaki, black and red. UNDERAGE acknowledged the rise in popularity of both diversity and gender-fluidity in fashion, referencing the infamous Rocky Horror Picture Show by blurring the lines of what is considered 'normal' and what is perceived as 'strange', as well as blurring the lines of human sexuality and gender.
Particular attention was paid to the make-up and styling of the models, with dramatic make-up mimicking the Rocky Horror Picture Show influence along with the rise in queer culture. It was refreshing to witness a modern label using deconstruction and juxtaposition to emphasise the horror and hedonism behind their AW19 collection, with suits contrasted by pseudosexual graphics and streetwear sensibilities becoming a focal point of their presentation.
Continuing from her previous SS19 football inspired collection, Katie Ann McGuigan showcased a feminine collection, again translating codes of conventionally 'masculine sports'. From football to motorcycles, Katie presented her signature bold and decisive blend of sporty details with vibrant colours and multitude of textures.
Her AW19 collection took inspiration from vintage imagery of the Bosozukus or 'Speed Tribe' biker subculture in Japan. Drawing inspiration from the gang's DIY customised motorcycles and slogan adorned uniforms, Katie created a powerful feminine collection in hues of lilac, mint, ochre and jade; epitomising the formidable 'girl gang'. The biker subculture formed in the 1950s, and rose to prominence in the 1980s/1990s.

Katie used vintage silhouettes to create a fresh aesthetic, continuing her playful approach to layering and textures. Katie's chaotic combinations created a youthful and modern feel. Continuing her previous collection's signature logo's, Katie introduced chunky-knee high slogan boots emphasising her motorcycle inspiration. She incorporated classic motorcycles styles interwoven throughout her collection, with plaid leather and chunky knits, embezzled with the slogan's 'Road Runner', 'Only Night Angels' and 'Highway Danger'.
Katie's AW19 collection breaks through the outdated barriers of masculine stereotypes associated with 'masculine sports' such as motorcycles. Her blend of sporty yet feminine, with an injection of colour and print, ensures she stands out as a designer to watch.